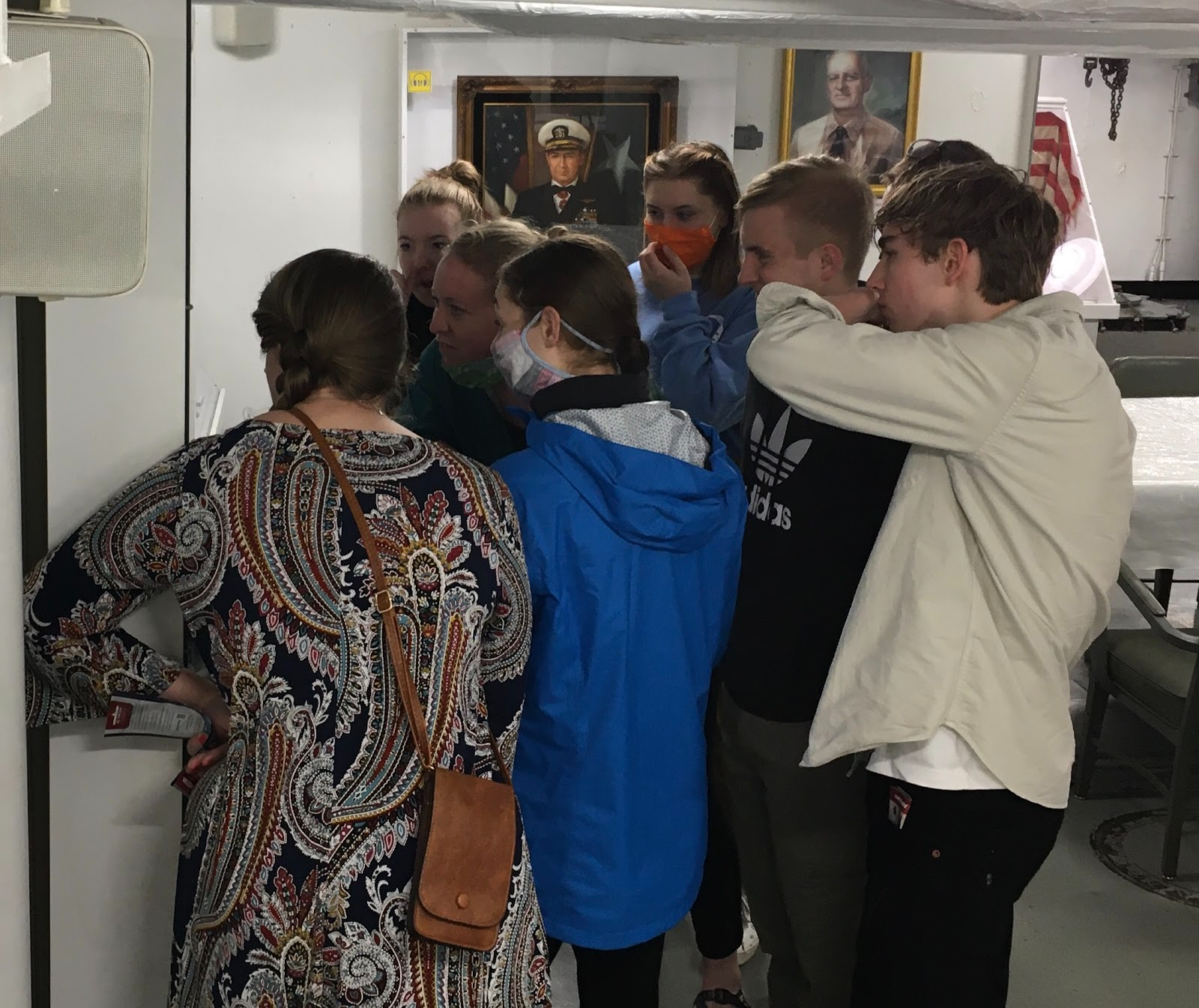 One of the highlights of the trip for me happened while we were walking past a display in the officers' mess.  It was near a portrait of Admiral Joseph Clark, a native of the Cherokee Nation (which at his birth in 1893 had not yet been made a part of Oklahoma).  Clark, who was known as "Jocko", had a reputation for being a courageous & tough officer, willing to fight the enemy and take initiative.  The display said Clark was once described as "part Cherokee, part Methodist, but all fighter."
The Yorktown we saw was not the first carrier with that name.  The previous Yorktown (CV-5, for carrier vessel 5) had been sunk in 1942 by the Japanese navy in the Battle of Midway.  The Yorktown we saw (CV-10) was rushed to sea in 1943 and sent immediately on offense in the Pacific.  Jocko was a terrific choice for its first commanding officer.  Soon after he was promoted to Rear Admiral and later was Captain of the USS Hornet (CV-12).  He was highly decorated, and one can read about his Task Force battles and his decision to light up his carrier after a particular raid so that his returning pilots could find the fleet before running out of fuel.
Yet what you see in the photo of Geneva staff and students is our interest not in Jocko's medals, but in an inscription written in a book of his.  That book was a pocket Bible, and he carried it with him.  The fighting Cherokee Captain's mother wrote in it the following:
"Dear Son: Am praying that you will pack this little book and carry it with you all the time, and now and then when you have an opportunity to read it that you will and will meditate and pray over it, your loving Mother, Lillie B. Clark, Chelsea, Okla."
On another page she wrote, "The Bible is the greatest book in the world.  It is God's word to mankind.  It is the source of authority.  It is the source of wisdom.  It is the foundation for our faith.  It is the Charter of liberty.  It teaches five things 1. The purest morals 2. Highest aims  3. Wisest councils 4. Most enduring promises  5. Most satisfactory results" 
The dedication page reads: "To Our dear Son Joe, from Mother and Father.  May you in your spare moments read it and find joy of Salvation in The true Light, June 19th, 1942."
One notes that Jocko was 49 when his parents gave him the Bible.
We enjoyed the simultaneous truths of a hardcore warrior, leading men courageously in battle, and the beloved son of parents who from very far away sent their love and encouragements and the Word of God.  For all Jocko was, he was still a son of Christian parents.  There is something wonderful in the truth that God might call us to high, distant, dangerous, or sacrificial deeds, and yet keep us wrapped in the tender relationships of our family.  One might have a larger than life role in something grand, yet remain still a dear son, the object of a mother and father's prayers.  And if we cannot relate to being a wartime Fleet Captain, we can at least relate to being a loved child, or to being a loving parent.  The fellowship of the Saints makes for unexpected and uplifting connections.
Brian Turner
Headmaster