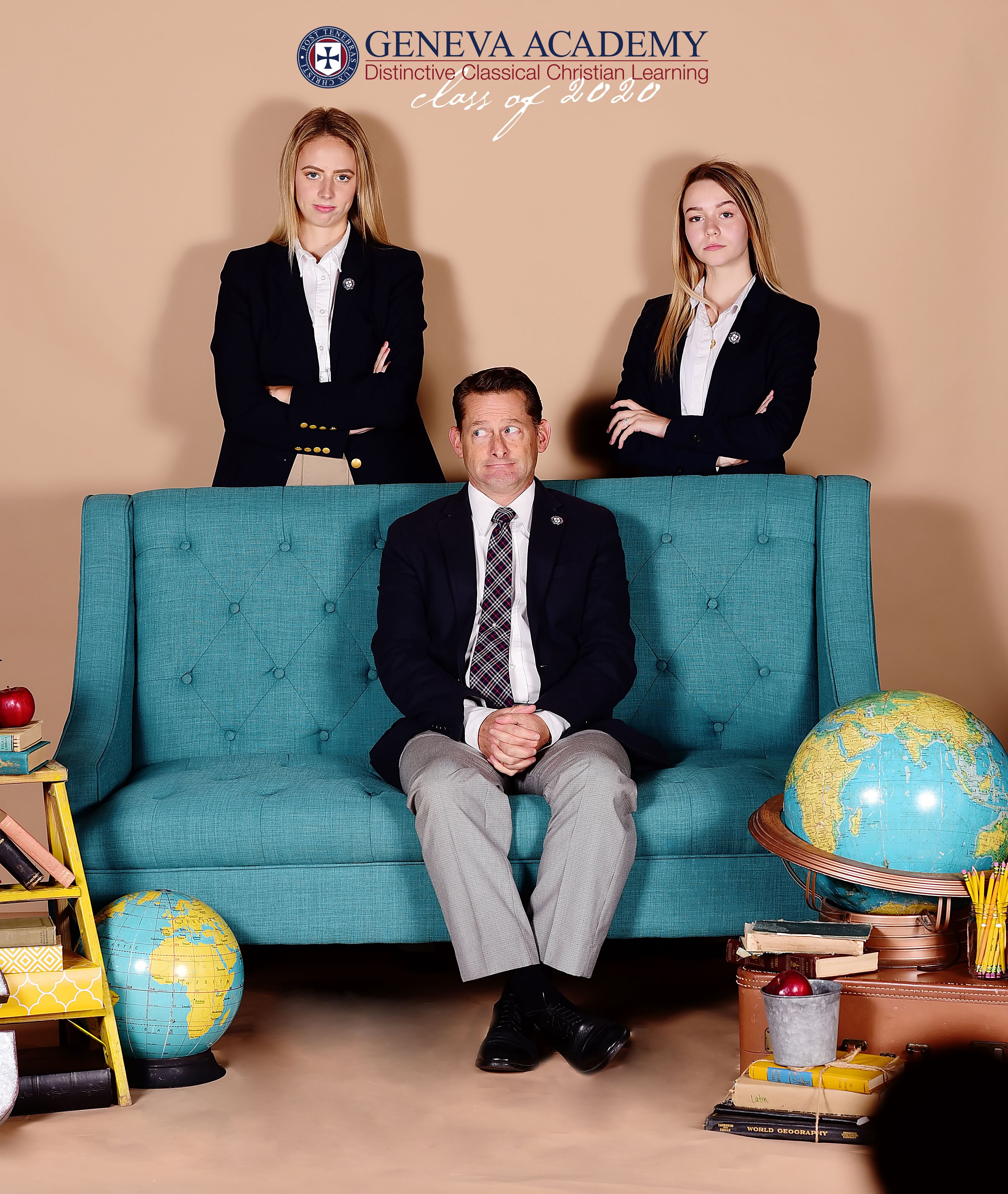 Geneva Family,
Tonight we want to affirm two young ladies of the Geneva Academy Class of 2020! Kaitlyn Riley & Heidi Duclos are going to finish their senior year with heart! That includes defending their Senior Thesis this spring, even if it requires presenting virtually.
Even as many of their peers at other schools are now finished with their as of the Governor's announcement on April 8, Mr. Turner said, "These seniors know how valuable this hard work is and it will pay off in the years ahead." And these seniors might caption this photo from School Picture Day in September, "Our faces when Mr. Turner says we still have to do the Capstone Project."
Kaitlyn & Heidi, thank you for recognizing that the faculty and board of Geneva Academy are COMMITTED TO YOU and your long-awaited, highly anticipated finish. As a school, we recognize you have invested YEARS of heart, rigor, work ethic, adversity, and growth ~ and we cannot wait to celebrate a PRICELESS culmination of years of your hard work & effort as you present your Capstone Project, the Senior Defense.
Furthermore, we appreciate the example you're setting for not only our K-11 students but also your peers in other schools.
Kaitlyn & Heidi, thank you for honoring your parents' investment of time and resources into not just schooling, but the shaping of your soul.
Your spring term will look different than the alumni who preceded you, but you both knew you were special! And if it turns out that your Senior Defense is done virtually and streamed far and wide, the Father in His providence will use it for His glory!
Thank you for being light in the darkness!
Post Tenabrus Lux Christi.
With that said, Geneva Academy family, let's CELEBRATE these young women as a community as they finish strong in these strange circumstances all of us find ourselves navigating.
Think about this: HOW DO YOU WANT YOUR OWN CHILDREN TO APPROACH AND RESPOND TO THIS KIND OF ADVERSITY? Circumstances outside of their control?
Witnessing Kaitlyn & Heidi finishing strong is a FRUIT of all that has been sown into Geneva Academy students by first, their PARENTS, and secondly, our teachers.
Kaitlyn & Heidi... you are LOVED and you are VALUED. Thank you to the Riley & Duclos families for allowing us to partner with you in shaping your daughters' character, faith and the very shape of their soul. It is an honor and a privilege.
*** NOTE! These were portraits taken during "School Picture Day" in September! So please know that this first portrait, which was taken in good humor, can now be captioned in good fun, "Our faces when Mr. Turner says we still have to do our Capstone!" 
Hats off to you, Kaitlyn & Heidi!
Our Geneva Academy Class of 2020!
The year that went VIRAL!
Sincerely,
The Board, Faculty & Staff of Geneva Academy