2020-2021 Part-Time Enrollment
Part-Time Enrollment is available at Geneva Academy. This is a wonderful opportunity to take advantage of some of the offerings at Geneva. Are you a Christian family looking for additional resources for your children? Are you homeschooling and want to integrate more Science or a new language into your curriculum? Also available is Literature, Theology, and History for upper-class students. Part-time enrollment may just be the perfect solution for you!
Try a new subject like Latin, Spanish or Logic. Join other students for enrichment classes like music, art and P.E.  Choose from a wide variety of classes in both lower and upper grades. Experience the blessing of our bible-based education in your child's life. Monthly tuition starts at $20.00.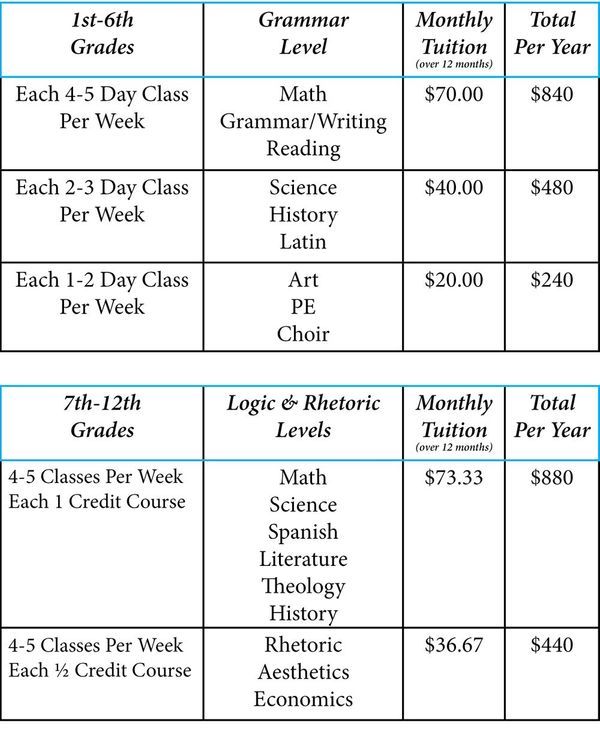 Monthly tuition payments are due on the first and payable until the fifteenth of the month, beginning in July and continuing through April (10-month plan) or June (12-month plan).   Late payments will be assessed a 2% per month penalty and incur a $25 late fee per month, whichever is greater.  Payments will be scheduled with FACTS.
Application Fee:  Applications must be submitted online.  Applications are not complete in the system until the application fee is paid.  The fee is $50 for new family applicants and $25 for students in existing Geneva families. 
Enrollment Fee:  A non-refundable enrollment fee of $150 per student is due at the time of acceptance or re-enrollment.  Families are thus encouraged to enroll early!
Family Discounts:  There are no family discounts for partially enrolled students.
Late Entry Fee: Enrollment after September 14th will incur a $250 fee to cover extra time/expenses in helping a student catch up to a class already in progress.
Full-Time Ministry Discount:  Discounts are available for the children of those serving the Lord in full-time ministry.  Eligibility for this discount will be determined by the school board.  Please call the school for more information.
Tuition Assistance: Limited tuition assistance is available to families on a short-term basis (one to three years).  Families must be accepted to Geneva Academy before submitting a Tuition Assistance application.  Eligibility is based first on financial need.  Other factors include a family's commitment to classical Christian education, their future ability to pay tuition without assistance, and their willingness to help with the school.  Tuition Assistance applications are available online through FACTS and there is a $30 fee to apply.  Applicants must be prepared to fully disclose the reasons for the request.
Early Withdrawal Fee:  When families enroll a child, they commit to paying the expenses of the student for the full year.  At the same time, the school commits resources (teacher salaries, supplies, etc.) to teach that same child.  The school plans and allocates funds based on enrollment.  When parents withdraw a student early, it breaks their commitment and introduces a financial challenge to the school, which must still meet its obligations.  Therefore, an Early Withdrawal ("EW") Fee will apply to students withdrawn early.  Past due accounts must be made current to the time of withdrawal, and then the fee will be applied.  Please refer to the complete policy for details and exceptions.