Truth, Beauty, Goodness
One of the tenets of a classical and Christian learning environment is that all that we endeavor to do is focused on revealing Truth, Beauty and Goodness unto the Glory of God, our Creator, Designer, Teacher, and Lord. 
---
Special places have special rules & etiquette.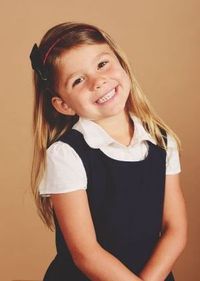 Uniforms are important to classical & Christian education because they are part of creating a school culture of Beauty by fostering:
mental & physical preparation for the vocation of "student"

focus on first things first

excellence in work ethic

self-discipline

academic success

neatness & modesty
---
Our uniform policy
is meant to REVEAL Beauty,
not to stifle it.
---
Whether it's music, art, sports, or academics, Geneva Academy allows students to express and define themselves beyond their clothing labels and fashion styles. A unique individual is developed not from appearance, but rather, character, personality and skills.  The students of Geneva Academy belong to a community with a common purpose. Just as those in the military, on a sports team, and professionals in service careers also dress in uniform, our students are set apart for their common goal: to Learn & to Learn to LOVE what's beautiful, true and good.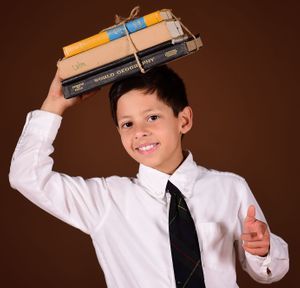 Our vision and mission are to train up students who are first Christians and cultivate in them rightly ordered affections or LOVES: love God first and then our neighbor. In many respects, the uniform is the face of Geneva Academy.  
1 Corinthians 10:31 states, "Whether you eat or drink or whatever you do, do it all for the glory of God."  We believe this principle applies to dress. Geneva Academy students represent the school, their families, themselves and the Lord God; their appearance should reflect that. 
American culture is known for its emphasis on individuality and personal comforts.  Geneva Academy acknowledges that these impulses may make adhering to the Dress and Uniform Code a challenge within some households.  Nevertheless, for the reasons stated above, all parents are asked to ensure in their children outward compliance and inward acceptance of the standards. 
---
2022-2023 Geneva Academy Uniform Guide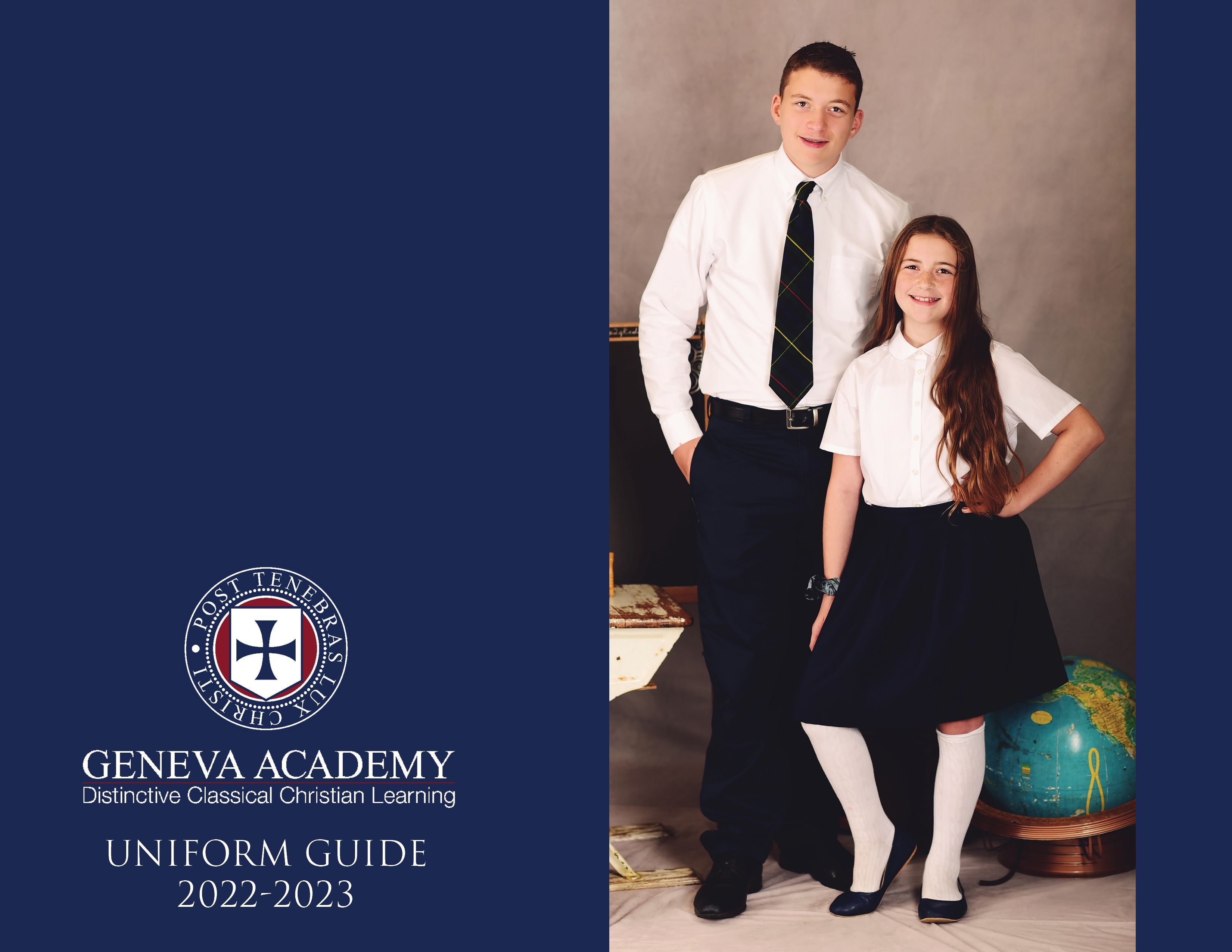 ---
SCHOOL UNIFORM VENDORS
---
| VENDOR | PRICE | WEBSITE | STORE ID |
| --- | --- | --- | --- |
| French Toast | $ | https://www.frenchtoast.com | QS5FERN |
| Flynn O'Hara | $$$ | flynnohara.com/school/or002 | OR002 |
| School Office | $-$$ | accessories, ties, PE wear | kshellard@genevaroseburg.com |
| Geneva Closet | FREE! | gently used uniforms - no cost | kshellard@genevaroseburg.com |
---
SUGGESTED UNIFORM KIT
---
Below is one Geneva Mom's Suggested Kit that will get you through one whole week of School with laundry done on the weekend!
Grammar School Girls
2 navy pants
2-3 embroidered white polos
3 navy jumpers
2-3 white blouses
Mary Jane shoes + 6 pairs of knee-high socks
Sneakers + 2 pairs white athletic socks
1 Geneva sweater for warmth in the classroom
Grammar School Boys
5 navy pants
2 embroidered white polos
2 light blue embroidered polos
1 white long-sleeve oxford shirt
Dress shoes + 6 pairs of navy socks
Sneakers + 2 pairs white athletic socks
1 Geneva sweater for warmth in the classroom
7th-12th Grade Girls
3 skirts (at least 1 navy or plaid for chapel)
2 embroidered polos
3 white blouses
Flats + 6 pairs knee-high socks 
2 PE shirts + 1 PE bottom 
Sneakers & white athletic socks
1 Geneva sweater for warmth in the classroom
7th-12th Grade Boys
5 pants (at least 1 navy for chapel)
4 embroidered polos
1 long sleeve white oxford shirt
Dress Shoes + 6 black or khaki socks
2 PE shirts + 2 PE bottoms
Sneakers + white athletic socks
1 Geneva sweater for warmth in the classroom