TEACH AT GENEVA ACADEMY
---
QUALIFICATIONS
Applicants to Geneva Academy should be mature Christians and students of the Bible.
An applicant should be able to articulate the classical Christian model of education and have the ability to apply it with excellence in the classroom.
PROCESS
Applicants should look closely at our Teacher Job Description.
Read Dorothy Sayers' essay "Lost Tools of Learning" before applying.
Review requirements within the Application Packet.
---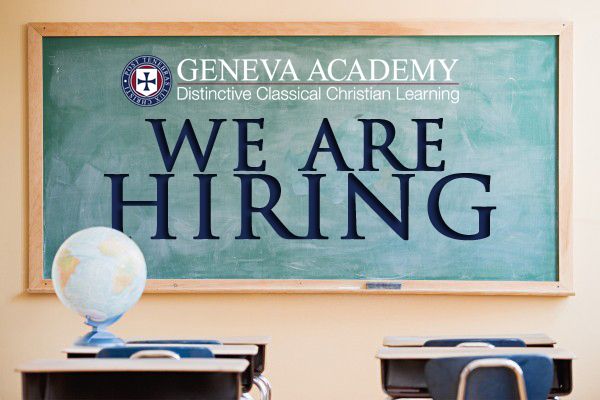 Positions Available

We are currently looking for teachers for the 2022-23 school year.  We anticipate needing several full-time Grammar School instructors as well as a full-time Latin teacher. We may need a part-time Bible or history teacher in our Secondary program as well.

We are also looking for a part-time Marketing Director.  This person will serve both internal and external audiences and must have skills in graphic design, photography, and writing.  We would prefer someone with social media and news media experience, and who loves working with both children and adults.  

Only applicants able to affirm the truths detailed in our Statement of Faith will be considered for employment.  

Applicants who notify the school early of their desire to teach may be given opportunities to assist in the classroom and attend summer training.  In addition, they will be able to begin reading particular classical Christian texts that will help them in the classroom. Geneva does not require state teacher certification and provides training in classical Christian teaching. 

If you are interested in teaching at Geneva, or learning about teaching in a classical Christian school, we encourage you to contact Mr. Turner, the Headmaster, at bturner@genevaroseburg.com.

 

Applicants for Grammar School faculty positions should be mature Christians who love teaching children.  They must be able to weave theology into all their subjects, and integrate grammar, writing, science, history, math, and reading.  They need to be able to awaken wonder and joy in God's hand over all areas of study while maintaining positive and respectful class discipline. They need to hold students to high moral and academic standards.

Secondary humanities applicants should be able to enthrall students with great works of literature, theology, and history while developing students' abilities to observe, reason, speak, and write.  They must be able to wisely deepen the Christian faith of their charges.  Candidates should be proficient with master works and be articulate, yet of good humor and humble.

Science and math-oriented applicants should be able to lead students through fascinating and challenging explorations of their disciplines.  They should also be able to wisely deepen the Christian faith of their charges.  They will need to shun plug & chug methodologies and instead develop logic & rhetoric oriented approaches.

Candidates with knowledge of classical Christian methodology & experience in the classroom are preferred.  Send letter of interest & resume to Geneva Academy, P.O. Box 1154, Roseburg, OR 97470, or email info@GenevaRoseburg.com. You may also submit your letter of interest and resume online through the form below.

Applicants for Grammar School faculty positions should be mature Christians who love teaching children.  They must be able to weave theology into all their subjects, and integrate grammar, writing, science, history, math, and reading.  They need to be able to awaken wonder and joy in God's hand over all areas of study while maintaining positive and respectful class discipline.  They need to hold students to high moral and academic standards.

Secondary humanities applicants should be able to enthrall students with great works of literature, theology, and history while developing students' abilities to observe, reason, speak, and write.  They must be able to wisely deepen the Christian faith of their charges.  Candidates should be proficient with master works and be articulate, yet of good humor and humble.

Science and math-oriented applicants should be able to lead students through fascinating and challenging explorations of their disciplines.  They should also be able to wisely deepen the Christian faith of their charges.  They will need to shun plug & chug methodologies and instead develop logic & rhetoric oriented approaches.

Candidates with knowledge of classical Christian methodology & experience in the classroom are preferred.  Send letter of interest & resume to Geneva Academy, P.O. Box 1154, Roseburg, OR 97470, or email info@GenevaRoseburg.com. You may also submit your letter of interest and resume online through the form below.

Qualifications & Responsibilities

Teacher Job Description

Teacher Qualifications

---

Spiritual. 

Each instructor of Geneva Academy must:

Fully agree with and subscribe to the Geneva Academy Faculty Statement of Faith
Demonstrate in life, word, and deed a clear personal commitment to the Lord Jesus Christ
Be a faithful attender, in good standing, of a local, evangelical church
Not be a recent convert (a Christian for less than two years)
Display a working knowledge of the Old and New Testaments, especially in regard to God's creation, man's sin, Christ's redemptive work, and the Christian family
Subscribe to Geneva Academy's Moral Integrity Policy and abide by the Moral Integrity Statement.

---

Professional.

Each instructor of Geneva Academy must:

Understand the purpose and philosophy of Geneva Academy and be in agreement with its Mission and Vision Statements
Teach using classical and Christian educational methods and demonstrate a willingness to be trained further in the same
Show educational preparation/accomplishment. A bachelor's degree is preferred
Have previous teaching experience (paid or unpaid)
Demonstrate good written and oral communication skills
Show exemplary personal and social skills that would foster good relations with students, parents, and staff
Have criminal history clearance (fingerprinting)

---

 

Teacher Responsibilities

---

Provide Spiritual Leadership

The teacher is expected to model Christian love, joy, faith, and spiritual maturity to students, parents, and staff.  The teacher must be a student of the Bible, to use and reference the Scriptures in daily lessons, to apply Biblical principles in student discipline, and to encourage in students a relationship with God nourished by His Word.

---

Teach Assigned Subjects with Excellence

The instructor is to plan an annual program of study using the Geneva Academy curriculum guide.  Classes are to follow prescribed scope and sequence and employ materials and methods approved by the Headmaster.  The teacher's knowledge, experience, and interest in the subjects are to be reflected in challenging, stimulating, and age-appropriate lessons.  Individualized instruction is expected for K-5 through third grade. 

---

Maintain a Disciplined and Focused Classroom

The teacher is expected to create an orderly, encouraging classroom environment.  This includes instilling in students self-governance, recognition of and repentance of sin, and a desire to put forth best efforts.  The teacher is expected to enforce school rules and deal with most corrective discipline situations within the classroom.  The room itself is to be kept clean, attractive, and well-ordered.  The teacher should establish daily and weekly class routines, such as submitting homework, reciting chants, recognizing accomplishments, etc. 

---

Regularly Communicate with Parents

K-5 and Grammar level teachers are expected to communicate with the parents of their students on a weekly basis; logic and rhetoric level teachers are expected to communicate to parents at least twice a month.  Regular written communication may be supplemented by phone calls and less formal conversations.  Appreciation or concern about student achievement and behavior should be clearly explained to parents and pupils through grade reports, corrected assignments, personal contact, and parent/student/teacher conferences.  Parents should at all at times feel informed about what the class is doing and welcome to visit or be involved as chaperones, classroom volunteers, readers, etc.  Teachers should respond quickly to the parent or student concerns and ideas.

---

Keep Accurate Records

The teacher must record daily attendance, keep up-to-date accounts of student achievement, establish a pattern of returning graded assignments, and assist the Headmaster in distributing and/or collecting school notices and forms.

---

Participate in the Mission of the School

The classical Christian teacher renders the highest hopes of the Academy into daily lessons and interactions with children.  This critical work makes the teacher a representative of the school in the classroom and in the community.   The teacher, therefore, is expected to welcome the role and also to assist the Academy improve its program and instructional content. 

---

Observe Professional Standards

The instructor is expected to attend staff meetings and special events such as soirees and graduations.  The teacher must be careful to observe professional standards in punctuality, attention to duties, speech and dress, and compliance with the directions of Geneva Academy administrators.

---

 

 

 
---
Submit Resume Below
---